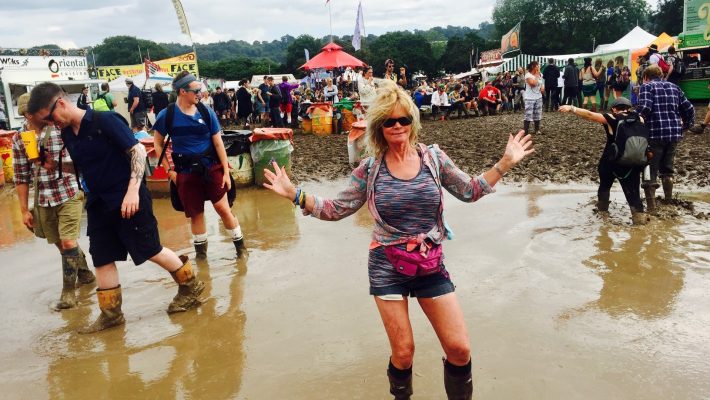 Being on foot at Glastonbury
Sue  Faulkner will be the 'life and sole' of the big festival bash at Glastonbury this June and even though she will be lapping up the sounds of Ed Sheeran, The XX, and The Courteeners amongst many others Sue will also be helping ensure festival-goers don't put a foot wrong.
The Rainford mum who runs  two Private Podiatry Clinics in the St Helens area is again volunteering to look after all the aches, pains, blisters and infections which can hit festival goers in what is traditionally something of a mudbath.
It's the largest music and performing arts festival of its kind in the world, attracting more than 175,000 people watching 700 acts perform live on more than 45 stages, between June 21st and 27th.
Sue said: "Taking the crew into account there will be more than 200,000 people there, the size of a town,  and not many realise that there is a full medical service provided by volunteers."
Sue, who runs Alpine Podiatry Practice in Rainford and in Sutton, is a volunteer for Festival Medical Services, the charity which is on hand (or 'foot' in Sue's case) at Glastonbury.
"It's a fantastic experience professionally and musically" she said.
"I would very rarely cover the same treatments at Glastonbury as in my practice, and it's great working with other health professionals such as GPs, radiographers, physios, dentists and nurses.
"Even though we all work two eight-hour demanding shifts, we have plenty of time to see the festival."
On a serious note, she warns all festival-goers that if you don't look after your feet you could end up with trench foot!
Trench foot is a condition which develops in the feet after a period of being immersed in cold, wet and insanitary conditions. It happens when the blood vessels in the feet restrict blood flow to the extreme areas of the feet to conserve heat. Once it sets in it can take several months to heal.
Sue added: "Some first timers have never worn wellies before and underestimate the amount of walking on unveven terrain.  Even the best feet will suffer, even if its not raining! Fortunately the numbers of trench foot are dropping every year, as most people bring extra socks and waterproof boots, and change them as often as possible."
It was a familiar complaint affecting soldiers fighting in the First World War, who stood for hour after hour in cold, waterlogged trenches without the opportunity to take off their wet shoes and boots and dry and warm their feet.
Sue warns festival goers to watch out for the following symptoms: Tingling and/or itching sensations. Pain, swelling, cold and blotchy skin. Feeling of numbness and prickly or heavy feeling in the foot. Red, dry, and painful feet after they become warm. The skin can develop blisters, followed by skin and tissue dying and falling off.  At the festival, the team of podiatrists treat the condition with a potassium permanganate footbath, which draws fluid out of the affected area. Then they apply an anti-bacterial and anti-fungal dressing. If untreated, the condition can spread to the toes, heel and entire foot. If you are unlucky and develop trench foot at the festival Sue advises you visit the Podiatry medical team as soon as possible, or call her on 01744 884051 or 01744 814789 to make an appointment when you return.